(迅雷下载)
中文名
: 多轨音频编辑软件
英文名
: Acoustica Mixcraft
资源格式
: 压缩包
版本
: v6.0.180
发行时间
: 2012年
制作发行
: Acoustica™, Inc.
语言
: 英文
简介
: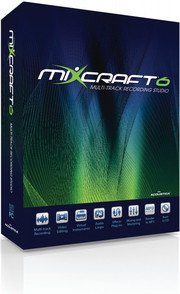 Acoustica Mixcraft™ 是一款带效果器的多轨音频软件,包含反相、失真、延迟、均衡、压缩、合唱等效果。支持回声过滤,并且是一个功能强大的循环编辑器。32位声音引擎支持广播级别的WAV文件并能输出MP3、OGG、WMA等格式。
Acoustica Mixcraft™可以用来制作你的个人作品、乐队作品的录音,甚至能为完成舞会的混音。您只需一台电脑和一台多轨录音机,Mixcraft就能帮您制作出另人惊奇的作品。你可以将你的作品以MP3、OGG、WMA或者RealAudio的格式发布到互联网上,也可以将它们刻录成音乐光盘或Mp3光盘。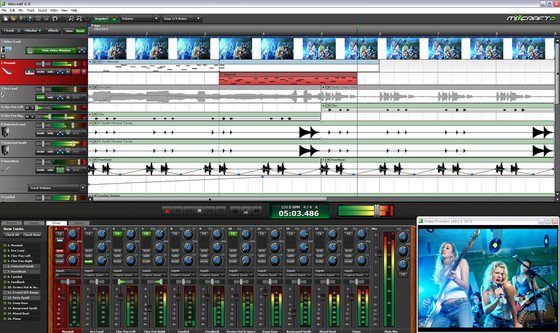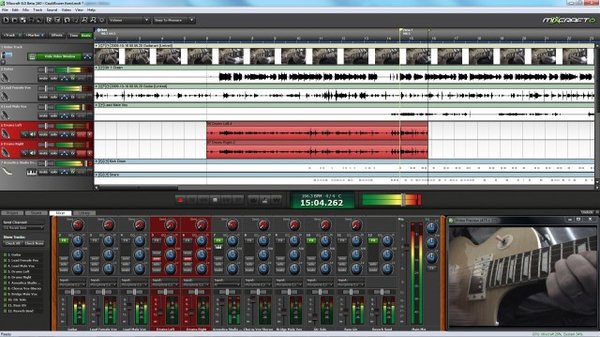 =======================================
下载链接来自sharevirus,
未经过安装测试与安全检测,使用者后果自负与本论坛无关
软体版权归原作者及其公司所有,如果你喜欢,请购买正版
=======================================
Mixcraft 6 is a powerful music production and multi-track recording workstation that comes packed with thousands of music loops and dozens of audio effects and virtual instruments. Mixcraft enables you to record audio, arrange loops, remix tracks, compose with MIDI and virtual instruments, add effects, score and edit video, and mix and master your tracks to create polished, professional compositions. Mixcraft is your music production dream come true, instantly turning your computer into a fully-stocked professional recording studio.
Main Features
Main Features
Professional interface with high-contrast graphics.
Custom loop library includes over 6000 royalty-free loops and sound effects in a huge variety of styles.
Easily import your own loop files and loop CDs into the loop library.
Loop Library features easy search tool to quickly find loops and sound effects.
Works with Acid™ WAV and Apple Garage Band™ AIFF loops.
Record multiple MIDI and audio tracks simultaneously.
Piano roll to view and edit MIDI.
Drum maps included for Mixcraft's drum instruments, plus many popular drum applications.
Notation tools allow you to create, edit, and print your MIDI data in familiar music notation format.
11 powerful virtual instruments, including the Acoustica Instruments General MIDI sample library, Expanded Instruments sample library, Studio Drums sample collection, Lounge Lizard Session vintage electric piano, VB3 tonewheel organ, ComboV and ComboF classic transistor organ emulators, MiniMogueVA monophonic analog synthesizer, Messiah polyphonic analog synthesizer, Alien303 Bass Synthesizer, and Impulse polyphonic analog synthesizer.
25 high quality effects, including the Pultronic Tube EQ, which models the classic tube equalizer found in studios throughout the world, and theShred Amp Simulator, a complete suite of 5 classic amp heads, 17 cabinet models, and 6 powerful effects.
Built-in guitar tuner available on every audio track.
Save and load complete audio effect chains, with many excellent effect chain presets included.
Create complex virtual instrument setups that layer and split multiple virtual synthesizers and effects. Set the key range, velocity sensitivity, transposition, pan and volume for each instrument.
Add unlimited VSTi™ instruments, VST™ and DirectX™ effects.
Route MIDI track data to audio effects (such as vocoder and pitch correction effects).
Video Track allows loading and editing of video files. Easily cross−fade from one video clip to another. Remix the audio, add a soundtrack, and effortlessly render your video project to a new video file.
Powerful video features include still image importing, automatable effects and transitions, and moving text.
Mix down to MP3, WAV, high-quality compressed OGG, and other audio file types.
Option to record directly to high-quality compressed OGG files. This is ideal for collaborators exchanging projects over the internet, laptop users, schools, and anyone recording long speeches or conferences.
Insert Time and Remove Time features moves all sounds, automation, and markers so you can add or remove an entire section from your song.
Burn CDs of your mix with just one click.
Sound Engine
Wave (WDM), ASIO™, WaveRT, and WaveRT Exclusive Mode low latency audio support.
WaveRT Exclusive Mode (available with Windows 7 and up) provides ultra-low-latency, solid audio performance on most audio hardware without any special sound card drivers. With WaveRT Exclusive Mode, Mixcraft can interface directly with the audio hardware, bypassing the operating system for low-latency audio performance without any special drivers.
MIDI input and output support. Will work with any USB MIDI keyboard or any instrument connected to a MIDI interface.
MIDI control surface support for transport controls, effect controls, and instrument controls.
32 bit SSE2-optimized sound engine supports recording and playback of broadcast quality audio up to 192 kHz and 32 bits.
Time stretch any sound from 25% to 400% with FlexAudio™ without affecting the pitch.
Punch In/Punch Out recording.
Loop recording with multiple takes.
Pitch shift sounds from -24 to +12 semitones!.
Use an unlimited number of tracks, instruments, and effects.
Automatically detects beat locations, keys and tempos of imported songs.
Import WAV, AIF, OGG, WMA, and MP3 files!
Reduce the noise level or eliminate it entirely with built-in Noise Reduction available on every audio clip.
Support for up to 16 processor cores takes full advantage of today's cutting-edge multi-processor computers.
Shape each sound's volume, pan and resonant filters with unlimited envelope points.
Support for DirectX™ & VST™ effects, including plug-in delay compensation.
Support for VST instruments with multiple outputs.
ReWire Hosting allows you to sync other music applications with Mixcraft.
Interface
New Automation features provide automated control of all parameters in any VST effect, VSTi instrument, or Acoustica effect. All tracks can contain an unlimited number of automation curves on an unlimited number of effects and instruments. In addition, you can even automate the track volume & panning, and more.
Master Track allows you to smoothly automate the global effects parameters and master volume, for smooth and easy fade-ins and fade-outs for your mixes.
Send Tracks (aka Auxiliary Busses) let you route audio from multiple Audio Tracks and Virtual Instrument Tracks to a single set of audio effects. For example, use one reverb effect on multiple tracks. Audio can be routed both pre-fader and post-fader to the Send Tracks, and effects on the Send Tracks can all be easily automated.
Submix Tracks allow grouping audio and MIDI tracks together to create a single submix.
Output Tracks (aka Output Busses) allow grouping tracks to a single output bus (with support for multiple hardware outputs).
Powerful Mixer Interface provides a convenient and familiar interface for mixing a project. Complete with easy access to volume, pan, mute, and solo controls, as well as effects and instrument dialogs, plus 3-band EQ on every track.
Recording Count-In feature sets Mixcraft's metronome to count-in before recording begins. The length of the count-in is user-adjustable, between 1 and 32 measures.
Mix To New Audio Track (aka Bouncing) allows you to mix down an Audio Track or Virtual Instrument Track, complete with all effects and automation, to a new audio track. This is a great one-click method to save CPU or "lock in" the edits and effects that have been applied to a track.
Undock the details tabs and move them around the screen, or onto a second monitor. Maximize the details tabs window for full-screen MIDI editing, mixing, and access to the loop library.
Edit any sound to make a loop. Pick sections of prerecorded songs and extract loops for remixing. User-created sounds can even be saved to the Loop Library.
Adjust loop points to visual beat marks.
Link audio, MIDI, and video clips together so they'll select and move as a group.
Reverse audio clips to create cool effects. Invert the phase of audio clips to solve phasing issues.
Mix To New Clip (aka Merging) feature allows you to merge several audio or MIDI clips together to form one single clip. "Lock in" edits that have been made to a recording, combine multiple loops into a single new loop, or mix multiple MIDI passages together into one MIDI clip.
Seamless Loop Mode lets you smoothly loop sections of your project with no audio gapping.
Lanes feature allows you to stack and organize multiple clips on a single track.
Color-coded CPU meter on the status bar helps you keep track of your computer's processing power at all times.
Multi-monitor support lets you take full advantage of computers with multiple monitors.
Musical Typing Keyboard lets you play and record virtual instruments without the use of a MIDI keyboard. Use your computer's typing keyboard to play notes and chords. Control pitch bend, modulation, and velocity. Sustain notes with a simple press of the Shift key. You can even transpose by octaves and semitones.
Archive your entire project to a ZIP file or new folder.
Powerful piano roll editor allow you to edit MIDI data easily. Create MIDI loops by adjusting the loop points. Edit notes and controller information with ease.
Load in standard MIDI files.
Add your own photos or images to each track header.
Edit each track's color, size and position in a variety of ways.
Intuitive keyboard controls and shortcuts for quick work flow.
Work in beats and measures mode, or in time mode.
Adjust the snap to grid setting which allows you to work and edit in whole notes, quarter notes, etc.
Split, cut, copy, delete and paste sounds with ease.
Easily move sounds around with drag and drop or via the keyboard.
Cross fade sounds automatically by visually overlapping them.
Create precise, custom loops extracted from existing songs.
System Requirements
1 GHz CPU, 2 GB Ram
Windows® 7, Vista, and XP
Sound card, USB, or Firewire sound device
Mixcraft 6 can be used in multiple languages, including English, German, Norwegian, Portuguese, Russian, Danish, French, Spanish (Espanola), Dutch, Simplified Chinese, and Traditional Chinese.